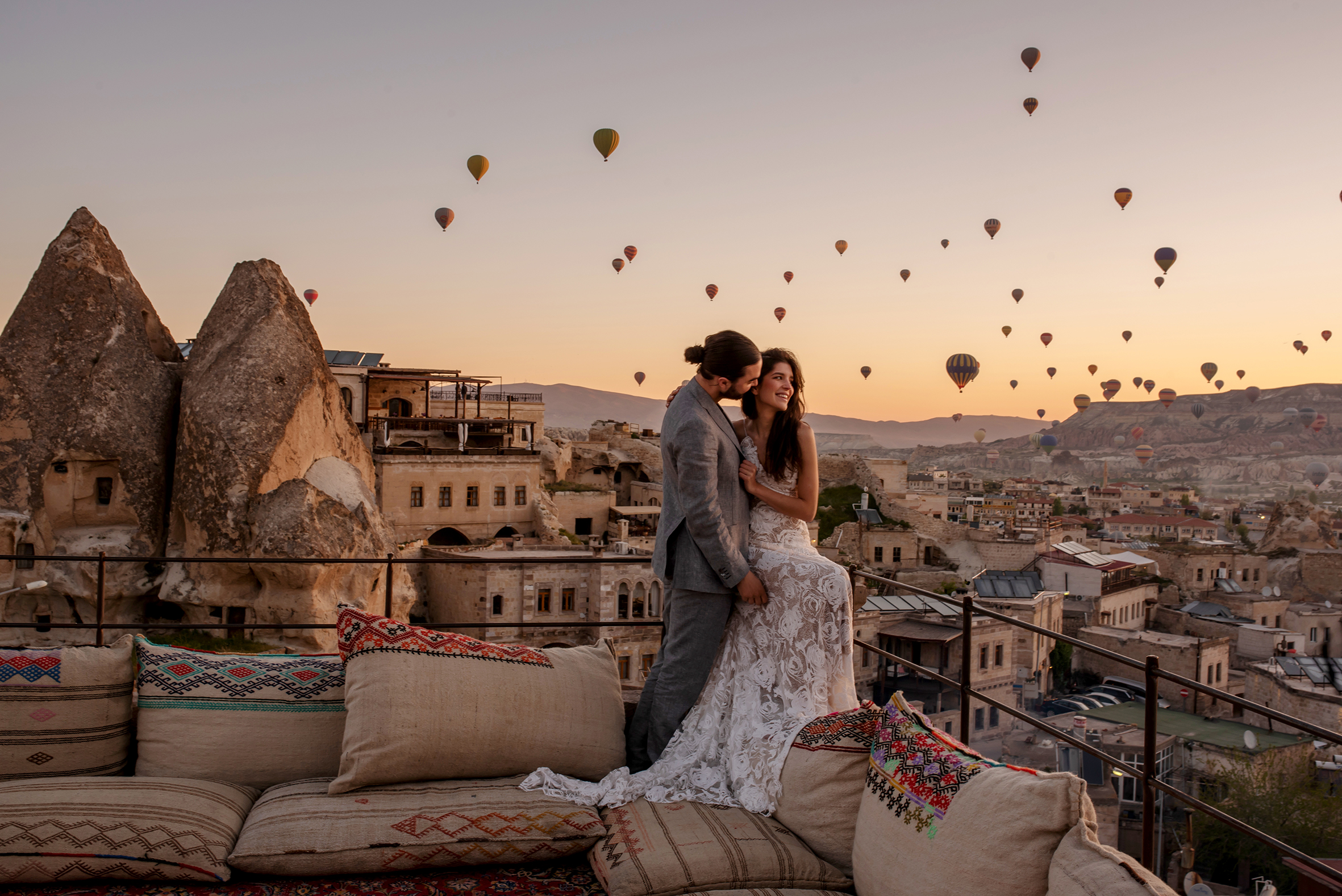 Feel the magic of Cappadocia
Welcome to the fairytale landscape of Cappadocia!!!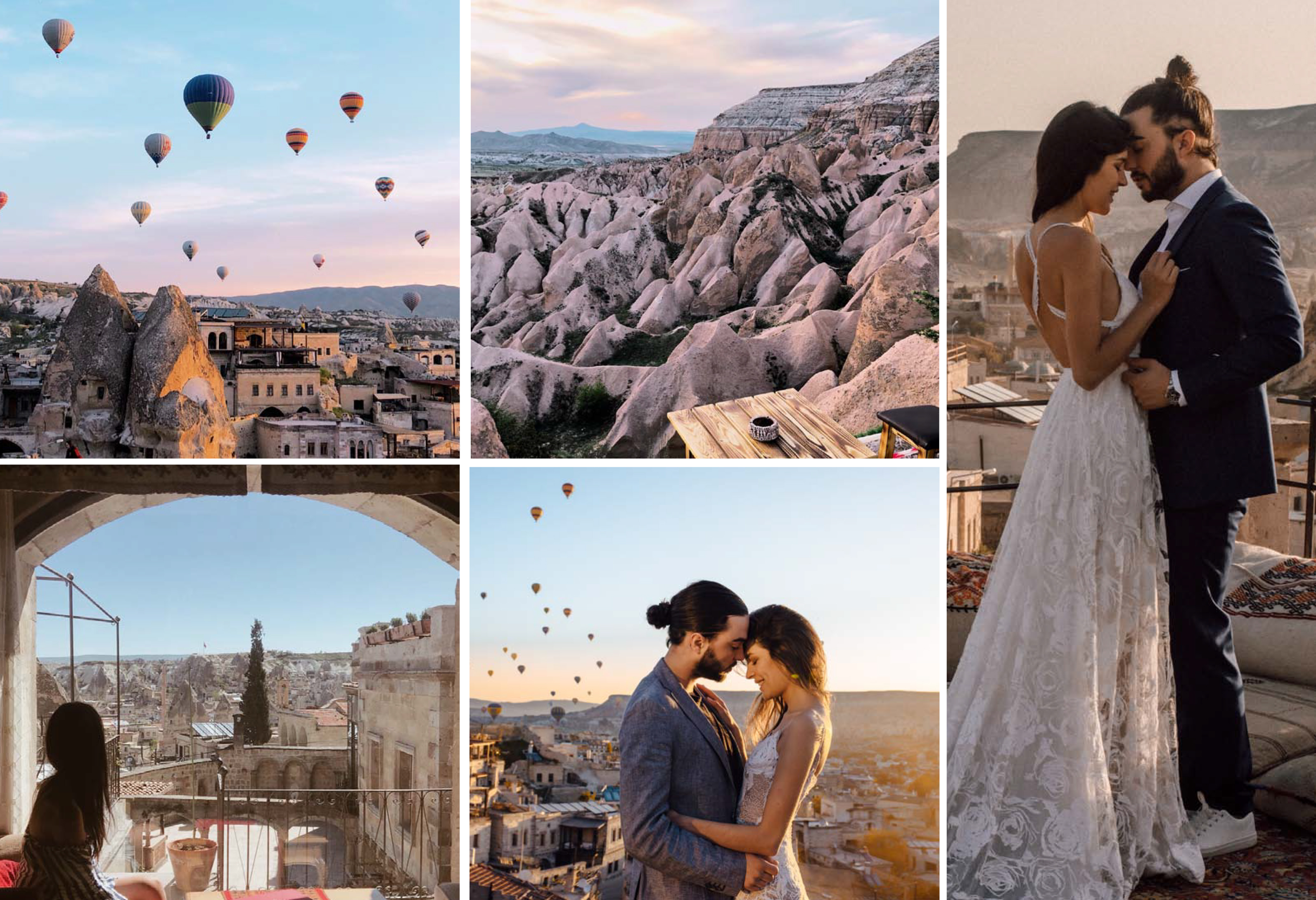 We offer a 2,5 day Photography Workshop Retreat in beautiful Cappadocia where photographers will gather, create, enjoy, talk and learn how to grow and develop in the wedding industry.
During these 2,5 days of Cappadocia Photography Workshop we'll have over 5 shooting locations to photograph and to create spectacular, original images of some truly amazing locations. Cappadocia offers breathtaking landscapes, fairy chimneys, caves, and beautiful sunsets- and sunrises!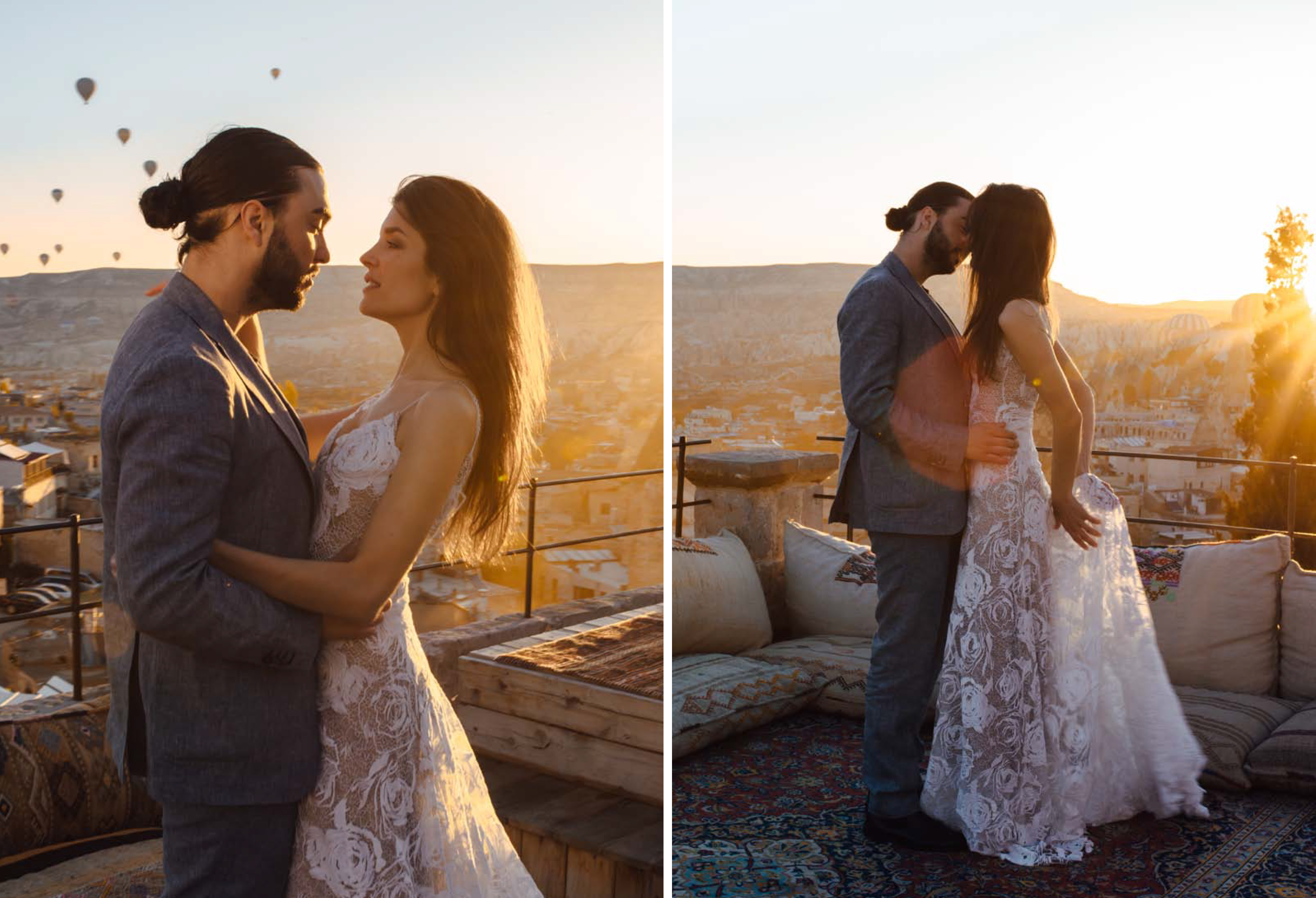 Cappadocia is a land full of surprises and beauty and the warmhearted Turkish hospitality will make your stay pleasant!! Every day at sunrise (weather permitting) the skies will be filled with hundreds of hot-air balloons- incredible scenes which makes this workshop unforgettable!

It is is one of the most famous landscapes in the world and for us it was love at first sight.  We have seen the most beautiful valleys in Cappadocia and soaked up the colours of the rock formations! Immerse yourself in this region of natural wonders, characterized by fairy chimneys and a cultural heritage.

This workshop is perfect for wedding and elopement photographers to expand their portfolio. If you want to build up your portfolio and to be inspired by the moonlike landscape, amazing sunrises, colors, light, culture and love to travel  – then THIS is the right workshop for you! This workshop will be a great opportunity for you to connect with like-minded people and to have the chance to build and refresh your destination wedding portfolio that you will be proud of. Our shoots will take place on sunrises and sunsets/dawn on one of the most fascinating locations of Cappadocia. Attending our workshop course will help you increase your visibility and reach your ideal clients. Join us for 2,5 days full of adventure and discovery in one of the most unique places on our planet.

During our Cappadocia Photography Workshop, we'll photograph every day, including the last day of the trip for sunrise. We will go out every morning to photograph at sunrise and during the day we will discover the region with its amazing valleys, caves and wineries.Without any doubts, Cappadocia is one of the most picturesque landscpapes worldwide.
Come and join us for an unforgettable experience. Much Love. Xoxo, Tali
Cappadocia Photography Workshop
Our Photography Workshop Retreat explores Cappadocia over a period of 2,5 days and 3 nights.
What is included in the Package?
All accommodation at a cave hotel  (3 nights, shared room with a roommate)
3x breakfast at our cave hotel in Cappadocia
3x Lunch, 3x dinner
transfer from and to the airport Nevsehir/Kayseri
5 shootings
2 couples
bus with driver to transport us safely and comfortably around Cappadocia
What is NOT included in the Package?
Personal expenses
Any flights
Alcohol
Travel insurance

Itinerary
Day 1
Meet & Greet
Welcome Dinner at our cave Hotel
Day 2
Sunrise Shoot Location No.1
Class: Social Media | Instagram Content & Style Strategies
Lunch
Exploring Cappadocia
Sunset Shoot  Location No.2
Dinner
Day 3
Sunrise Shoot Location No.3
Lunch
Exploring the region
Sunsetshoot Location No.4
Dinner
Day 4
Sunrise Shoot Location No.5
Feedback and final F&Q
Transport Airport

Cappadocia Wedding Photography Workshop by Tali Photography
Trip INFO
DATES // March 29 – April, 1 2020
COST // € 2990
PHOTOGRAPHY LEVELS // All
Referent:       Tali Photography
Arrival:          Welcome Dinner 29th of March, 2020
Workshop:    March, 30 – 1st of April, 2020
Departure:    April, 1st at 2pm
Location:       Cappadocia
Investment:   2990,00 Euro
Services:        2,5 day practice-oriented workshop including the Welcome Dinner, lunch, breakfast, dinner, lodging from Sunday till Wednesday, Shuttle from the airport accomodation (shared 2p bedroom),
If you feel that the workshop is the next step in building your wedding photography business up to a higher level and would like to book please send us a mail to mail@taliphotography.com
How can I register to the workshop?
To book a space on the workshop, you need to put a 50% deposit down of the total course cost. The final payment is due end of January, 2020!
How do I get to Cappadocia?
The closest airport to Goreme (the heart of Cappadocia) will be in either Kayseri or Nevsehir. We recommend to book flights to Istanbul which takes from european countries between 3-4 hours and then a following domestic flight to Nevsehir, which takes about 1h20. There are even non-stop flights to Kayseri (depending where you are based).
Where do we meet?
There is a shuttle scheduled at the airport in Nevsehir or/and Kayseri for Sunday, 29th of April at 7pm.
Is Cappadocia safe?
Cappadocia is very safe. People there are just wonderful and open hearted.
What's the weather like in Cappadocia?
Temperature in April will be anywhere between 15 – 20 C during the day to 5 C n the evening.